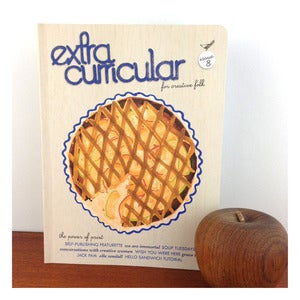 EXTRA CURRICULAR MAGAZINE Issue 8
$

11.00 - On Sale
Was $14.50
Extra Curricular is a terrific, content packed mag about folks who get creative in their spare time.
Issue 8 features a guide to self-publishing with tips from people who have taken the independent route. There's also a 'Wish you were Here' section which looks at three creative antipodeans who are creating overseas, great autumnal apple recipes by the folks from Martha Goes Green, and a cute tutorial from Ebony Bizys of Hello Sandwich.
Extra Curricular is printed in full colour with vegetable based inks on 100% recycled stock.
AND IF YOU'RE JUST BUYING EXTRA CURRICULAR, IT HAS THE SPECIAL POSTAGE PRICE OF $1.80 WITHIN NZ.